Meet Todd, an EHN Canada Admission Counsellor who helps many Albertans take their first step in addictions recovery.
We chatted with Todd Geoghegan, an Admissions Counsellor at EHN Canada, to share his inspiring story from patient to staff member. Through his role, Todd has been the friendly, welcoming voice on the other side of the phone supporting people experiencing addiction. He has helped many individuals find the right resources and admit themselves or their loved ones into treatment at Sandstone addictions treatment centre and our other facilities across Canada.
What inspired you to work in this role?
I attended Edgewood Treatment Centre, now part of EHN Canada, 12 years ago as a patient and loved my experience. About seven years ago, I returned from a trip to Asia feeling a little disconnected from my recovery community and the treatment centre. I missed that and wanted to be part of the facility again, so I applied for a support staff position. Helping to admit patients was part of the job description, and I came to love the connection with the "newcomer." In the Al Anon program, the "newcomer" is the most important person in a treatment facility, and I had a story that helped others who were at the beginning of their journey to a new life in recovery. When a position became available, I jumped at the chance to do this full time.
I get to support people who are looking for help, walk families through my experience and the treatment process, and discuss the disease concept of addiction with people who don't quite understand why their loved one "just can't stop."
What do you enjoy most about your role?
The staff I work with are amazing people who care so much about the patients. The patients and families come first, and they always have, so I know people attending EHN Sandstone will always get the best care possible. But my favorite part is the interaction with patients and getting to see their changes on a daily basis. Sitting with new arrivals, taking them through the process and touring them around the facility really helps to settle someone that first day. I get to introduce them to other patients, staff, and counsellors which breaks down that fear of being here. I get to pass them in the common area, stop for a visit, and see that sparkle come back into their eyes.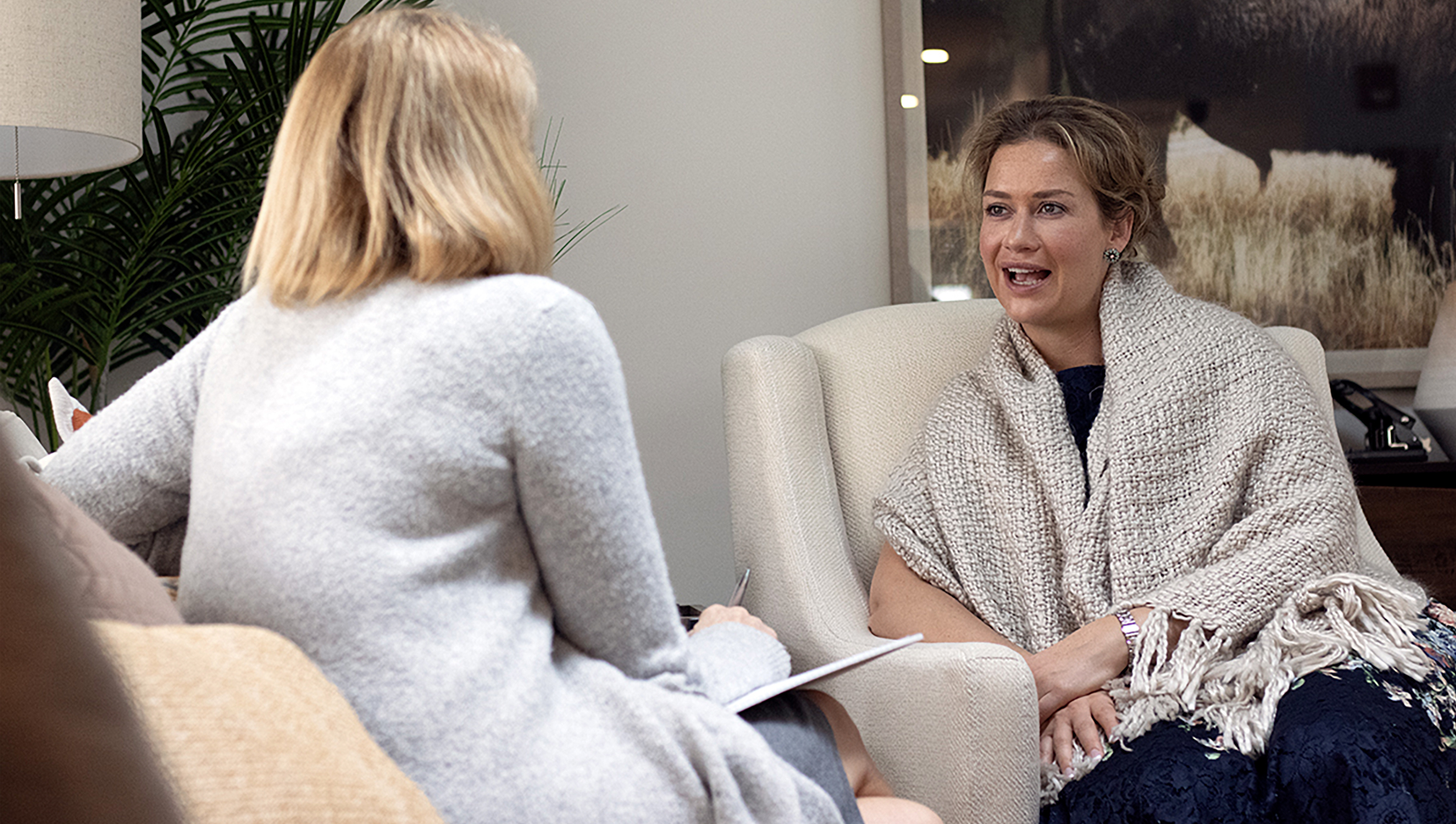 Are any aspects of your role challenging?
It can be difficult to speak with family members who are seeking treatment for their loved ones who aren't quite ready for help. To hear the pain and frustration in their voices reminds me of my own struggle with addictions. It reminds me of what my family and friends must have gone through watching me self-destruct. What keeps me going is the thought that maybe I can give families hope that their loved ones might one day choose recovery.
What does a typical day look like for you?
I work an eight hour shift Monday to Friday with one night a week on-call after-hours. In admissions, we always want someone available to answer the phone 24 hours a day in case a person is calling for help. The admissions team consists of eight of us answering phones, discussing EHN Canada's programs and the best treatment option for that person calling. The team is a mix of people in recovery and people who have been affected by a family member's addiction or mental health struggles. We are there to help and are not a "call centre." All of us speak from personal experience, which callers can sense over the phone. We work very closely with all departments, whether it is reviewing medical concerns with the doctors, medications and mobility issues with the nursing team, or specific treatment needs with the clinical team. We always want to make sure that patients are getting the best treatment possible.
Do you receive more phone calls from individuals seeking support, or friends and family members reaching out on behalf of a loved one?
That's a good question. I'd have to say the majority of the calls are from family and friends on behalf of loved ones. When you are struggling with addiction, it is very difficult to pick up that phone and make the call yourself. After family members call seeking advice and support, I always ask them to pass along my contact details to their afflicted loved one, as I'd love to talk with them one-on-one about what we do at EHN Canada facilities, such as Edgewood or Sandstone. Being able to relate to someone and break down that fear about coming to a treatment program helps a lot.
Data shows alcohol consumption has increased since the start of COVID-19, have you seen this reflected in the calls you receive?
I've seen a lot more extreme or difficult cases since the pandemic began. From my experience, there is a lot of underlying addiction and mental health out there, and with the COVID-19 restrictions in place, I see this as the perfect storm. Addiction thrives in isolation, and here we have people being asked to self-isolate, disconnect, and stay home. My addiction loved that! Without healthy coping skills, people will turn to what they know, and the use of mood-altering substances will increase. A big part of recovery is community, connecting with others, and a support program. A lot of people are struggling out there and my heart hurts for them.
What would you say to someone who may be needing support, but is hesitant to make the phone call?
You are not alone and there are people who understand! We are not here to judge, but rather to help give you some understanding of addiction and how we can help change your life. I made that call 12 years ago and only received love and support. I did not hear: "You are a failure and not worthy of happiness," which is what my addictive thinking was driving into me. It was the best decision I ever made! I care so much about every patient and want for them what recovery has brought me – love and happiness!